4 Days Bwindi Gorillas & Lake Bunyonyi|gorilla safaris and holiday|relaxation at Lake Bunyonyi
Safari overview for 4 Days Bwindi Gorillas & Lake Bunyonyi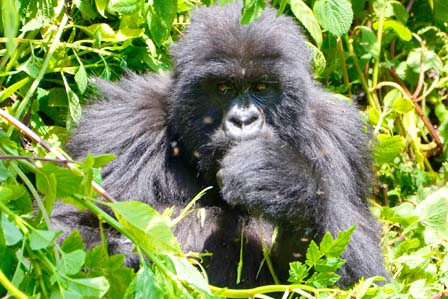 This 4 Days Bwindi Gorillas & Lake Bunyonyi, with Mum and Dad Uganda Tours will take you to Bwindi Impenetrable National Park a home to the mountain gorillas, over 350 of these remaining apes live in Bwindi national park, trek the gorillas in their natural setting and meet with the Batwa pygmy.
The Bwindi Impenetrable Forest ecosystem is exceptionally high in biodiversity, with rich flora and fauna species. This lush forested area hosts some of the richest tree, small mammal, bird, butterfly, reptilian, and moth populations.
The tour will also take you to Lake Bunyonyi national park, the lake was named because of its small bird which reside at the park, and the lake has very many interesting islands and relaxation spot which makes the lake Bunyonyi the best place to after a magnificent gorilla trekking experience.
By the end of this 4 days gorilla and Lake Bunyonyi tour, your experience will be memorable.
Day 1: Travel to Bwindi impenetrable 
You will be picked from either Entebbe or hotel in Kampala by our safari guide/ driver gets you briefed about the safari and later drive you to south western part of Uganda to Bwindi impenetrable national park a home to giant gorillas. The journey will let you pass via beautiful sceneries and rolling hills. You will have two stopovers before reaching the park one at the Equator to buy crafts and take photos and another in Mbarara for lunch. From here you will continue to the magnificent forest and home to mountain gorillas and other primate species reaching in the evening. Check into your booked accommodation for dinner and overnight.
Lodging Options; Gift of Nature/ Gorilla safari lodge/Buhoma lodge(Luxury), Haven lodge/ gorilla mist lodge(Mid-range), Buhoma Community Camp/Bwindi view bandas (Budget) Meal Plan; Full Board
Day 2: Gorilla trekking day- Bwindi
On this day after a cup of tea or coffee, the guide will take you to the park headquarters for a short briefing about the dos and don'ts while with the gorillas and also get allocated to the gorilla group to trek. Bwindi national park host the highest number of these gentle giants in the world almost a half of the remaining mountain gorillas live in this park. Not only gorillas but also the park is a home to other species like butterflies, plants, primates, mammals, butterflies, frogs, among others. Bwindi Gorillas & Lake Bunyonyi
Gorilla trekking experience last between 1-8 hours since meeting them depends on where they spent their last night from and once they are met you are strictly allowed only one hour with the gorillas. Just in case some of you are not interested in tracking gorillas, you can go for a short guided forest walk or Village walk to the Batwa community. Retire at the lodge.
Accommodation Options; Gift of Nature/ Gorilla safari lodge/Buhoma lodge(Luxury), Haven lodge/ gorilla mist lodge(Mid-range), Buhoma Community Camp/Bwindi view bandas (Budget) Meal Plan; Full Board
Day 3: Transfer to Lake Bunyonyi
Wake up leisurely for a hearty breakfast while still in the mood of reminiscing about the previous day's gorilla experiences. After you will be driven to Lake Bunyonyi, the second deepest lake and a birders spot in Africa. During your transfer to Bunyonyi, you will be Enjoying the eye-catching landscapes such as the locally terraced interlocking hills where most locals carryout their farming, you will also enjoy the terraced hills which named by the British grate diplomat Churchill as the Switzerland of Africa. . Upon arrival you could go for canoeing on the lake and have lunch. After lunch take a community walk where you will enjoy traditional dances from the Bakiga people, also buy yourself handicrafts from there. Bwindi Gorillas & Lake Bunyonyi, The evening will be reserved for relaxation. Dinner and an overnight at;
 Accommodation options; Birdnest @ Bunyonyi Resort, bird Nest (Luxury), Bunyonyi Overland Camp(Mid-range), Crater Bay cottages(Budget) Meal Plan; Full Board
Day 4: departure
After a hearty breakfast leave for Kampala with lunch-en route and stopover at the equator crossing for photography buy some souvenirs to take home with you if interested. If your flight is slated on this day, you will be driven direct to the airport to meet your departure flight back home
Note: Uganda gorilla permit goes for $700per person, so early bookings are advised to avoid last minute booking which is disappointing.
Safari Price includes: 
Accommodations on full board basis,
Gorilla permits,
Park Entrance Fees
Canoe ride
English Speaking Driver/guide,
4wheel Drive Safari Vehicle,
Ranger guide
Bottled Drinking Water, Boat trips, Transport and all mentioned activities apart from the extra/optional ones. Best Experience in Bwindi Gorillas & Lake Bunyonyi