Overview
Some of the best cultural sites to visit in Rwanda 2021 -2022, Mum and Dad Uganda tours is here to introduce to you the best cultural sites to visit in Rwanda 2021-2022, Sometimes people refer to Rwanda as the'' land of a thousand hills'' due to very many hills that inhabit the country. Rwanda is an African country in the East African region surrounded by Uganda, Kenya, Tanzanian, DRC and Burundi. Its population is not so big. Actually, has one of the smallest populations. Rwanda's culture is varied. Unlike many countries in Africa, Rwanda has been an integrated state since pre-colonial times, majority of Rwanda consists of the Banyarwanda people who share a solo language and cultural legacy. Music and dance are an indispensable part of Rwandan rites, carnival, social gatherings and storytelling.
Rwanda has very many interesting cultural sites to visit in Rwanda 2022 -2023 one should not love to miss visiting when on a tour to Rwanda. And you can visit most of these sites on a city tour either at the start of a safari or at the end or you can plan a full day sitting at these cultural sites.
King's Palace Museum (King Mutara III Rudahigwa) in Nyanza:
The king's palace Museum is one of the most famous cultural sites in Rwanda. It is in Nyanza and it was basically the residence of King Mutara III Rudahigwa until his death. The palace was constructed in 1932 by the Belgium government. It lies just about 88 km south of Kigali city Rwanda's capital and its largest city. The museum serves as a cultural center that offers apprehension into Rwanda's monarchy tradition over the last 200 years.  While here, you will have a chance to view Rwanda's traditional seat of the King.
During the 1994 Rwanda genocide, many of the traditional materials and objects in the museum were destroyed while others were stolen. During this war over 1m people were killed within one month and many went into exile in the neighboring countries.
However, there was restoration of some of the materials like the traditional cows (''Inyambo'' )and this represents the culture of Rwanda. You cannot leave the palace minus visiting the Rwanda burial grounds of King Mutara III and his precious wife Rosalie Gicanda on a neighboring hill of Mwima its worth visiting while on a safari in Rwanda.

Iby'Iwacu cultural village:
This is also a must visit site in Rwanda especially after gorilla trekking in the volcanoes national park Rwanda' most visited park and this wonderful cultural village is in Musanze district around Volcanoes National Park. The word Iby'Iwacu is a Kinyarwanda word meaning "Treasure of our home". This beautiful cultural village exhibits cultural practices of the three tribes of Rwanda that is Hutu, Tutsi and the Batwa.
While in this Village, you will have a chance to enjoy many interesting activities including learning how to prepare traditional foods, different traditional dances such as the Ntore, Ikembe, Amakondera and Ingoma among others, you will leave the cultural village with a lot of satisfaction and if you like, you can join them in their dances something which will give bring you memories.
Many tourist who come to Rwanda for gorilla safaris, don't miss this activity, you will be privileged to visit the former king's palace, visit the traditional herbalists and clinics, visit the Batwa pottery making among many other captivating activities. Iby'Iwacu cultural village is one of the best places where nature meets culture. You will have long lasting memories.
Banda Village
The Banda Village is located within the heart of Rwanda's Nyungwe Forest National Park a home to the closet relative of man the chimps, its located just about 15 kilometers from Uwinka Visitors Centre. The village can be easily accessible via a path at the end of the beautiful Canopy Walk. Reaching the village, you will be receive a warm welcome with beautiful song and dance before touring the village. They will display their traditional basket weaving, maize-grinding, medicine-making, and a chance to sample the local cuisine.
Kigali Cultural Villages
You can't leave Kigali minus taking a visit to the Kigali cultural villages which are located within the heart of Rwanda in Kigali Rwanda's capital and largest city.  The Kigali cultural villages is where local artisans & food vendors exhibit and trade their goods, many events like workshops, festivals and music can be organized within here. You will have great memories that will last forever
Others things to do in Rwanda apart from cultural sites
Mountain gorilla trekking: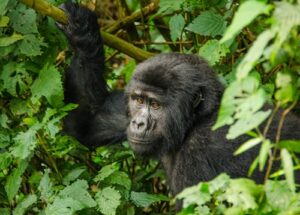 This is perhaps the most interesting adventurous safari activity done in Rwanda, the park is located just about 2 hours' drive from the capital city Kigali. The park is one of the few parks in the world hosting the endangered mountain gorillas. Gorilla trekking is one of the most interesting activity in Rwanda and spending one hour with these special apes is such a thrilling experience one should not love to miss.
The entire process of gorilla trekking is rewarding although sometimes its demanding, the trek involves passing through the thick and sometimes muddy forest so some levels of physical fitness is essential. You should pack steady pairs of walking shoes, walking stick, long sleeved shirts or blouses, battled water, gloves, a hut, sun glasses. Once you meet, the apes you will have only one hour with them while observing their behaviors. Also, you will take as many photos as possible with them. However Avoid using the flash camera.
Game drives in Akagera national park:
Rwanda is one of the few parks that hosts the big 5 mammals including lions, elephants, African buffaloes , rhinos, leopard, others games include the hippos, crocodiles, antelope species, hyena, bush bucks, warthogs just to mention but a few. Game drives in the park will give you an opportunity to watch a variety of these animals. You will spot crocodiles and hippos as well as different species of birds during a boat cruise on the river. Additionally, you will see  buffaloes and elephants wallowing along the shower line. Boat cruise takes 3 hours while on the river. Game drives can take place both in the morning and evening, and a 4×4 wheel drive will be highly recommendable with a pop- up roof.
Apart from game drives and gorilla trekking in the parks of Rwanda, chimpanzee trekking is also another exciting activity one should not love to miss while on a safari in Rwanda. Chimpanzees are fabulous fun to watch when playing in fruitful trees or tree brunches. cultural sites to visit in Rwanda, Nyungwe forest national park is a recommendable park in Rwanda for chimpanzee trekking. The park houses over 13 species of primates. Other primate species expected to watch include baboons, civet monkeys, black and white colobus monkeys, red-tailed monkeys just to mention but a few. Chimp tracking begins early in the morning with a short briefing from the park wardens.
Chimp trekking time is unpredictable, it can go from 1-8 hours and once you meet the apes, you have only one hour with them watching them as they do their daily activities including feeding, mothers breastfeeding, making nest, playing among others. Combining the love of culture with other interesting tourism sites in Rwanda will not leave you the same, book your cultural tour today 2022 -2023 with Mum and Dad Uganda Tours