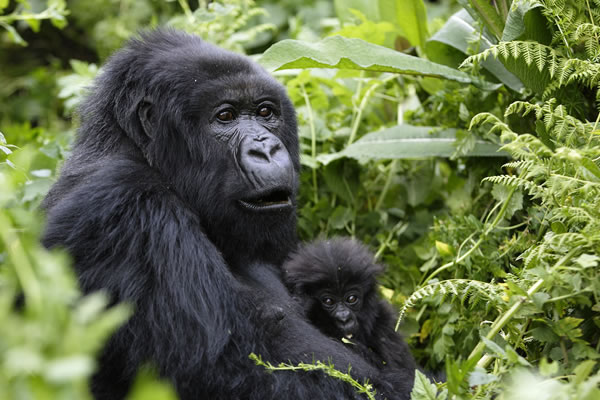 Uganda Gorilla Permits for Trekking in 2020-2021
Uganda Gorilla Permits for Trekking in 2020-2021
On 1st October, 2020, Uganda reopened its international airport and boarders after 6 months of lock-down due to the Covid-19 which affected the entire world. Uganda Gorilla Permits for Trekking in 2020-2021
All international and local flights were stopped from landing on the Entebbe international airport, and the tourism sector has been affected greatly.
National parks were no longer open for the period of over 4 months, however since the airport has been reopened there is hope of receiving clients.
Many travelers and tour operators have started jubilating as the activities have resumed. When planning to come to Uganda please, you are required to present a valid certificate showing your Covid 19 status for a period of 72 hours upon your arrival at Entebbe international airport.
Uganda hosts 10 national parks with over 12 games reserves, all these housing a variety of animals species some of which can't be found elsewhere in the world.
The major Uganda tourist attractions is the endangered mountain gorillas which are only shared by three counties world-wide the other two includes Rwanda and the Democratic Republic of Congo.
Over the years, Uganda has positioned its self as the leading destination for gorilla trekking in Africa with two parks where these giant apes live including bwindi impenetrable forest national park, and Mgahinga gorilla forest national park.
With no doubt gorilla trekking is the leading safari activity and many travelers leave their homes and come and stay with these apes in their natural habitat for over 3 days.
To be among the eight members in a group to visit the gorillas, one must obtain a gorilla permit which is a passport to see the gorillas and they are currently cost usd700 per person per trekking and they sold at the Uganda wildlife authority offices located in Kamwokya Kampala suburbs.
Gorilla permits are sold on first come first served basis the earlier to book your permit the better to avoid disappointments of last minute booking.
Previously there were discounts on gorilla permits during low seasons which is May and November however they are no longer discounts, they are sold on the same price of $700 per permit through-out the year.
Gorilla permits is one of the most expensive activity but regarded as the most selling and done activity in Uganda. Gorilla permits are available throughout the year and the activity is done either in bwindi impenetrable national park of Mgahinga gorilla forest national park.
Gorilla trekking experience begins very early in the morning after reporting at the park headquarters early in the morning to receive short briefings about the dos and don'ts while with the gorillas and also gets you assigned with the ranger guide who will take you through the forest during the search of our close giants the apes.
The activity is unpredictable it can last from 1-8 hours, since these are wild animals, they can move anyhow in the forest,  meeting them depends on where they last spent their night from and food availability.
How to Book Uganda Gorilla permits and take part in Gorilla trekking during the Covid-19 Pandemic
As exhilarating as it is to know that Uganda has re-opened for tourism and Gorilla trekking back in the picture after a long period of lock-down, however, it's important to note that we are still fighting Covid-19 and there are set guidelines that must be observed for entering the park.
Every person above 15 years can be allowed to take part in gorilla trekking as of today, 1st October 2020.
All international travelers MUST test negative for Covid-19 72 hours before departure.
All participants in gorilla trekking MUST test negative 48 hours before the tracking date.
No one is allowed to trek the gorillas with high temperatures and other signs of sickness such as flue and cough in order to minimize the risk of the mountain Gorillas contracting the highly infectious virus.
The above, and many others control measures must be observed alongside the regular do's and don'ts of Gorilla trekking as communicated on the day of the trek during your briefing.
If all goes to plan, gorilla trekking activity will run so smoothly and commercial flights in Uganda are set to resume with effect 1/10/ 2020.
UPDATE: Commercial flights in Uganda resumed on 1st October 2020 as planned and you can plan your visit to Uganda now everything is set.
You can Contact us today to help you plan your Gorilla trekking safari to Uganda and book your Gorilla permits accordingly.
Rwanda also opened its gates on 1st/ August/2020 so flights lands every day at Kigali international airport and the tourism sector is open, so you can plan to visit either to Uganda or Rwanda with our  trusted tour and travel company Mu, and Dad Uganda tours.