1 Day Mabamba Birding Tour|1 Day Birding Mabamba Swamp Tour|Mum and Dad Uganda Tours
Safari highlight for 1 day Mabamba Birding tour with Mum and Dad Uganda Tours
Detailed safari
1 Day Mabamba Birding Tour :This 1 day tour to Mabamba swamp will begin in Entebbe/Kampala. It will take you to one of Uganda's most gifted areas with a variety of bird species. Some of which can't be traced elsewhere in the world. The Mabamba wetland is located on the peripheries of Lake Victoria towards Western Uganda.
The most famous bird species in the area is the Shoe-bill which is common in four countries including Uganda, Rwanda, South Sudan and Zambia but you can best see it at Mabamba swamp in Uganda. Indeed, a visit to Mabamba is rewarding with amazing sights.
Access
Mabamba wetland can best be accessed from either Kampala or Entebbe by car or by boat from Entebbe. The drive from Entebbe/Kampala to Mabamba takes about one hour depending on the number of stops. You are advised to leave your hotel early to avoid the traffic and also before the heat from the sun is too much which reduces bird activity. From Entebbe you access it better by a boat and once you arrive you leave the speed boat and join the canoe to access the possible location of the shoebill at Mabamba; Birding 1 Day Mabamba Birding Tour.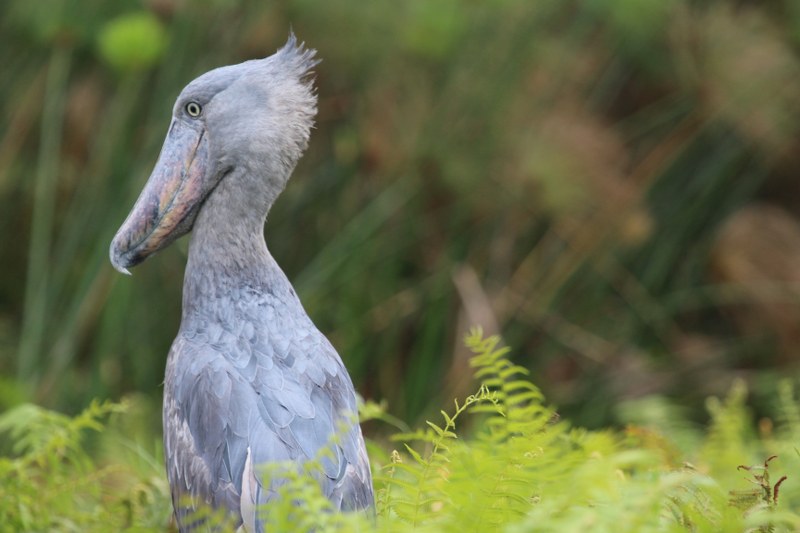 The tour will mostly be in a motorized traditional canoe as we search for the Shoebill wading through the overgrown papyrus in line with many other birds. The site guide will help to advise you about the location of different special bird species in the area and give you adequate information about any species of birds that comes your way.
Bird species
To mention other seasonal bird species that you should expect to encounter include; Angola Swallow, Swamp Flycatcher, Olive bellied Sunbird, Grey-rumped Swallow, Blue breasted Bee-eater,  African Jacana, African Fish Eagle, Long tailed Cormorant, Yellow billed Duck, Malachite Kingfisher, Glossy Ibis, White-winged Tern, Hamerkop, White-faced Whistling-Duck, Spur-winged Goose, Knob-billed Duck, Common Squacco Heron, Red-billed fire finch the list is endless.
After this magnificent bird watching activity, you will retire back to the hotel as you make various stop overs at any points of interests for more species you could have missed on your way to Mabamba swamp. 1 Day Mabamba Birding Tour
End of tour in Mabamba Birding Tour
What to carry
Tour includes
Ground transport
Bottled water
Birding fees
Service of an English-speaking bird guide
All mentioned activities except for the optional ones
Tour excludes
Lunch
Tips to porters and driver/ guide
Insurance