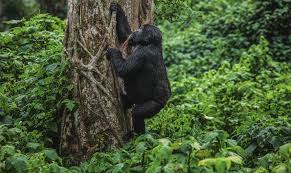 Gorilla Trekking Tours in Rwanda
Rwanda is known as one of three African countries in the world where you will have a chance to see the endangered mountain gorillas.
Rwanda is the second after Uganda for housing the big percentage of these rare apes over 350 out of about 850 mountain gorillas that remain in the world live in Rwanda's Volcanoes national park. The park is located in the northern part of Rwanda about 2-3 hours' drive from Rwanda's capital Kigali.
Gorilla trekking is Rwanda's most thought after things to see and do and it's regarded as the most interesting safari activity one should no love to miss while in Rwanda. The activity begins very early in the morning after reporting at the park headquarters to receive short briefing from the park wardens who will brief you about the dos and don'ts while with the gorillas and also gets allocated to the gorilla family to trek on that particular day.
There are 10 habituated gorilla families in Rwanda, all found on the slopes of the Virunga Mountains. Gorilla trekking activity is unpredictable, the trek can last between 2-6 hours in the jungle since meeting them depends on where they last spent their night from or on where they last fed from, ounce they are met you are strictly allowed only hour with them while studding their behaviors as well taking as many photos as possible, however when taking photos you are not allowed to use flash cameras.
You are strictly allowed to stay a distance of 10m from the gorillas. You are advised to book gorilla permits prior to the trekking date, since permits are sold on first come first served basis, late booking of the gorilla permit is sometimes disappointing.
Rwanda Gorilla permits are sold at a fee of $1500 per permit, Mum and Dad Uganda Tours will help to book your gorilla permit. You can plan a gorilla trekking trip with a few other activities thrown in for variety and more excitement. This is one activity you cannot possibly regret signing up for.