Bwindi Impenetrable National Park
If your main aim is to discover, experience, and explore Uganda's main attractive features recorded on its great list of enticing attractions. You should not miss the amazing Bwindi impenetrable National Park on your bucket list of top tourist sites. In order to spend some time while in Uganda "The Pearl of Africa" for your great discoverable vacation.
When it comes to exposure of Uganda's tourism then Bwindi Impenetrable National Park should not be minimized. Because it has done a great role as far as bolding Uganda to different travelers from different countries of the World. Since it's listed on the great list of top five exciting National Parks in the World who provide habitat to the World's must-visit attraction popularly known as shy endangered ground-dwelling herbivores Gorillas.
Best of Bwindi Impenetrable
Highlighting the geographical location of this Park, it's not geographically located in any other region. You may predict but rather this Park geographically and permanently situated in the Southwestern part of Uganda along Uganda's border. With the Democratic Republic of Congo not very far from Queen Elizabeth National Park. Since it's even very possible to switch directly from Bwindi to Queen or from Queen to Bwindi via Ishasha sector route. Associated with en-route game drive exposing you to a sighting of the famous tree-climbing lions resting up in the fig tree branches if you are lucky.
Additionally the Park comprises of a thick strong impenetrable Bwindi forest. Which are for instance big tree species, vegetation, shrubs, bogs and other plant life. Other ecosystems characterized include bamboo forested areas, hilly areas, grasslands and waterly swampy areas which provide good habitat to different Wildlife species.
How to get there
Travelling from Kampala by road to Bwindi in the Southwestern Uganda. Kampala- Masaka- Mbarara highway is the best-recommended route of reaching this Park. Including en route stopover at the equator for some brief explanation about the equator, photos, and snacks. Thereafter continue with the journey up to the Park using suitable 4×4 wheel drive Safari jeep. Lunch is provided en-route in Mbarara town.
Finally it takes about 8-9 hours for the drive from Kampala to Bwindi Impenetrable National Park. Depending on speed used, traffic along the way, current climatic conditions, and included stops overs.
Depending on the Itinerary, it may be starting from Queen Elizabeth National Park. Therefore it's very possible to switch from this Park to Bwindi Impenetrable National Park via the Ishasha sector route. Then switching from Queen Elizabeth National Park to Bwindi, the nearest sector to trek Gorillas in the Buhoma sector
What to see in Bwindi.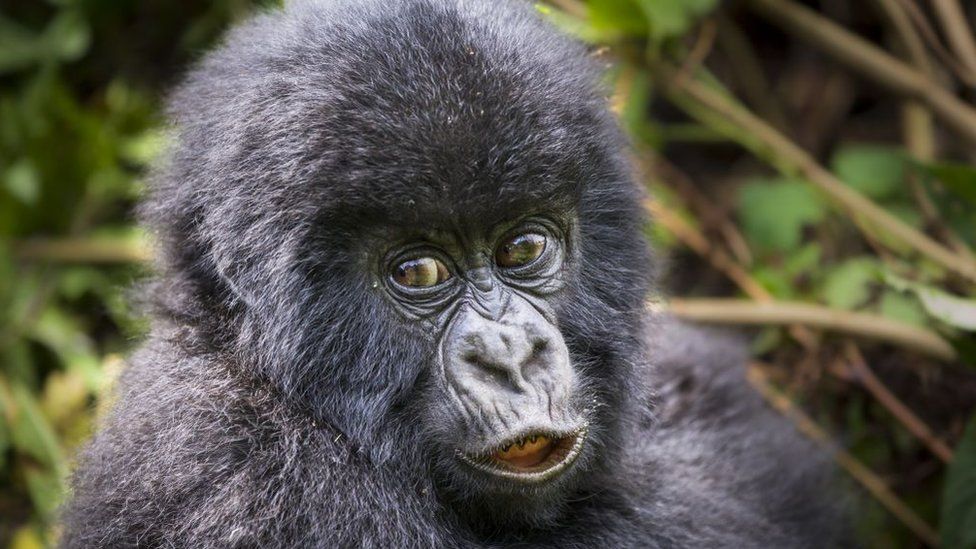 Firstly all popularity of this Park is brought about by its huge varieties of the shy endangered ground-dwelling herbivores Mountain Gorillas. Uganda is ranked to be hosting the biggest percentage of the World's remaining Gorilla population. With almost half of it in its two major National Parks but Bwindi Impenetrable National Park dominates with the biggest percentage of Uganda's recorded Gorilla population.
Secondly the park is recorded with fourteen habituated Gorilla families for trekking. And research in its four major sectors including the Nkuringo sector, the Buhoma sector, Ruhija, and Rushaga sector with each sector having more than two Gorilla families apart from the Nkuringo sector which has only one Gorilla family.
Gorilla trekking
Gorilla trekking regarded as the most done safari activity done in the park, in order to enjoy this activity, one has to own a gorilla permit. Apparently, an Uganda gorilla permit costs $700 per person per trekking. And one is required to own a gorilla permit prior to gorilla trekking. Gorilla permits are in very high demand sometimes they get finished early. On the day of gorilla trekking, you are required to first report at the park headquarters. To receive short briefings about the dos and don'ts while with the gorillas.
Meanwhile the trek is sometimes tiresome as it involves passing through the thick and muddy forest, and it can go from 1 to 8 hours. However, once the gorillas are met, you will utilize the one hour spent with the gorillas, take as many photos as possible as well as studding their behaviors. Flash cameras are not allowed when noting photos. As this may scare away the animals.
While in Bwindi ,besides habituated Gorilla species in Bwindi, there are other unknown numbers of Wild Gorillas found in Bwindi Impenetrable National Park.
Wildlife species
Additionally, on top of Mountain Gorillas, there are other Wildlife species habituated in Bwindi Impenetrable National Park including Wild animals for example leopards, lions, Kobs, spotted hyenas, warthogs, bush pigs, forest hogs, reedbucks, and more, Primates such as Red-tailed monkeys, Colobus monkeys, wild chimpanzees, Blue monkeys, Vervet, L'Hoest monkeys, Mangabey, Baboons, and more.
Other species
Other species in the Park include reptiles, different insect species, plant species plus different bird species which are recorded sightable in its major birding hotspots like Mubwindi swamp, Rushaga sector, and more.
Activities to do in Bwindi.
The most prominent activities done while in Bwindi Impenetrable National Park include Mountain Gorilla trekking, Gorilla habituation experience, Bird watching, and visit the Batwa people.
Where to stay.
Bwindi Impenetrable National Park certainly situated with different accommodation facilities reserved for tourists and other visitors to the Park to stay at affordable prices. Although these facilities are categorized into three including a budget, mid-range, and luxury facilities characterized with surely good services offered.
Safari Packing List for gorilla trekking

Below is the safari parking list to Uganda
The following is only meant as a guideline as you may have your own preferences:
1. 2 –3 pairs of lightweight slacks/trousers – that can dry quickly (if wearing on treks)
2. 1 pair of shorts
3. 1-2 long-sleeved shirts
4. 3 short-sleeved t-shirts
5. A waterproof and windproof jacket like a Gortex
6. 1 sweater or sweatshirt
7. 1 skirt ( for women)
8. Swimsuit (and a plastic bag)
9. Strong waterproof walking boots – pants should be tucked into socks and boots while trekking (heavy soled rain boots also work well)
10. Pair of sports sandals like Tevas
11. Hat-wide brim or with a visor for sun protection
12. Sleepwear
13. Underwear
14. Lightweight wool socks
15. Gloves – gardening or similar (for gorilla trekking)
Miscellaneous
Sunscreen
Sunglasses with neck strap
Insect repellent with DEET
Small day pack
Flashlight
Binoculars
Gorilla trekking groups In bwindi forest national park
Ruhija Sector
Ruhija Sector has 4 Groups, with 32 permits available on daily basis
 Bitukura family—this group was habituated in 2008, it has 13 family members with Ndahura as the dominant silverback.
Oruzogo—this group was habituated in 2011, by the time of writing it has 22 members, including 2 silver backs with Tibirikwata as the dominant silverback
Mukiza (Kyaguliro B)—it s a group of 15 members with Mukiza as dominant silverback
Kyaguriro—this group is manly reserved for research purposes, it has 9 members and its led by a dominate silver buck called  Rukina
Buhoma Sector
Buhoma sector has 4 Gorilla Groups, with 32 available permits
Mubare family—named after the Mubare hills, was the first group habituated in 1991, has 18 members and is led by Ruhondeza Silverback.
Habinyanja family—by the time it was habituated it had over 30 members but as time went by, the group went on splitting, however by the time of writing it has 18 member with a dominant silver back called  Makara Silverback.
Rushegura family—split from the larger group Habinyanja group, now has 20 members led by Mwirima silverback.
Katwe—has 9 members with Katwe silverback leading the group
Nkuringo Sector
Nkuringo sector has 3 gorilla groups, with 24 permits available
Nkuringo family. leader Rafiki was killed in 2020, family has 12 members led by Rwamutwe Blackback. The hike for tracking the Nkuringo is the most challenging but undoubtedly worthwhile, as it is the most pleasing.
Christmas family—this group was split from Nkuringo, appeently this group has 6 members and its led by Christmas Silver back, Rafiki's brother.
Bushao family — Family has 12 members and its led by Bahati Silverback a dominant male in a group.
Rushaga Sector
Rushaga has 8 gorilla groups, with 64 permits per day
Nshongi family—it is known as one of the originally  largest gorilla group to be habituated, by the time of writing it has 25 members now with 2 silverbacks
Mishaya family—This gorilla group was split from Nshongi group, it has 10 members led by Mishaya Silverback.
Busingye family—split from Kahungye, 10 members let by Busingye Silverback.
Bweeza family—has 9 members and was habituated in 2011.
Kahungye—is the largest group with 18 members, habituated in 2011.
Bikyingi—12 members in the group and is currently being habituated.
Muchunguzi—has 8 members.
The Gorilla trekking rules prepare you for Gorilla trekking and gives you guidance on conservation of the mountain Gorillas. Gorilla permits can be obtained at the UWA headquarters in Kampala-Uganda's capital city.
Trending gorilla packages
3 days gorilla trekking safari
4 days bwindi double gorilla trek
7 days Uganda Rwanda gorilla flying safari