Bwindi a home to the mountain gorillas
Bwindi a home to the mountain gorillas, Have you ever planned a gorilla safari in the East African region? Or you have ready made a decision of traveling? In your plans of the things to do while on your safari, is gorilla trekking. Uganda is one of the countries one should put on the number one list of countries. Not to miss visiting and Bwindi is regarded as the leading top destinations for any traveler to Uganda. 
Don't be stressed, Uganda's bwindi impenetrable national park can help you to answer all those questions. Pf where to go and what to do. Bwindi impenetrable national park is one of the ten visited and popular Uganda national park. Being located in the southwestern part of Uganda.
To reach the park, it's a drive of about 9-10hrs on a clear day weather condition. The drive will make you pass through beautiful sceneries. With different stopover at any interesting sights along the way.  The park neighbors the Republic of Congo border and the Virunga National park on the edge of the Albertine Rift. Bwindi impenetrable national park is known as the UNESCO-designated World Heritage Site.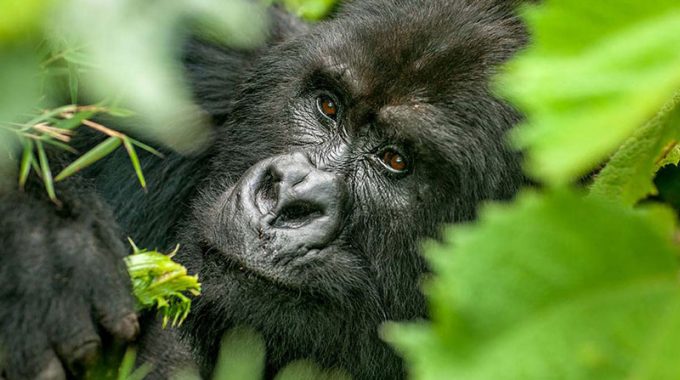 Mountain gorillas#Bwindi a home to the mountain gorillas
The park is a home to over 400 mountain gorillas living only to this park putting it in a position of number one leading mountain gorilla safari destination in the world. The park has over 18 habituated gorilla families ready for tracking. And in each gorilla family only 8 members are allowed to trek. This indicates that over 144 visitors can track gorillas each day in all the four gorilla families. Each group is allocated to a ranger guide who takes full control of the group. They help to lead the trekking process from the start to the end of the trek. And also help to give relative and informative information including guiding the visitors while in the forest. The information is not only on gorillas but to any forest dweller. They meet during the search of these gentle giants.
Over 95% of travelers this park go gorilla trekking. While in the park, there is reduced hustle to see the gorillas simply. Because they are large in number and therefore finding a family of these apes. Moving roaming about the whole area is not a surprise. But it should be noted that gorilla trekking is not as easy as many people may think. The trek involves passing through thick and sometimes muddy forest especially during rainy season. So some levels of physical fitness is needed.
Gorilla permits#Bwindi a home to the mountain gorillas
Many people impose a question of how much should I supposed to pay. In order to be among the blessed 8 to trek the gorilla in their natural habitat. However, this is just very simple. Each participant is requested to pay a fee of USD 700 per tracking. Bwindi a home to the mountain gorillas permits are not paid by cash the day of trekking. They are paid in advance at least 1-3 months prior to your trekking dates in order to avoid inconveniences.
Last time booking of gorilla permits is always disappointing, permits are sold on first come first serve basis. So the earlier you secure your gorilla permit, the better.  It is always recommended to book with a recognized tour and travel company as without them it's very hard to get a gorilla permit from the Uganda Wildlife Authority as permits are only issued from there and tour companies are given a chance to purchase them in advance.
Sparing some good time with the endangered apes in Bwindi impenetrable national park is regarded as a long lifetime experience one should not love to miss as one gets a chance of countersigning some of the rare characters of these great apes who sharing almost a half of these rare apes.  The time taken to meet the gorillas is unpredictable, since they are wild animal, they move freely in their natural habitat searching for food and shelter, gorillas makes nest every day for an overnight. Once the gorillas are met, you are strictly allowed to stay with them for only one hour observing their characters and behaviors as you take their photos and videos (a flash camera is strictly not allowed they can scare away the gorillas).
Gorilla tracking
Gorilla tracking activity begins early in the morning in all the 4 sectors of bwindi impenetrable national park including Buhoma sector, Ruhija sector, Rushaga and Nkuringo. The guide will drive you to the park headquarters for a short briefing about gorilla trekking during and after the trek, from here they will also get you assigned to the group booked for and the ranger guide that will lead the all session.
After, you will head to the forest with a ranger guide to begin the activity.  The trek will go from half or full day depending on the gorilla whereabouts, so some levels of physical fitness is highly recommended and also don't forget trekking gears including sturdy pair of walking shoes/boots, long sleeved shirts or blouses, camera, bottled water and packed lunch.
With no doubt, Gorilla trekking is known as the principal tourism activities done in Uganda and it has earned a lot of income to the government and this is because of the huge number of travelers who visit Uganda and go gorilla tracking. Bwindi being the best destination for hosting these endangered apes, it hosts many of the visitors and the government of Uganda has put more emphasis on tourism and previously, Bwindi a home to the mountain gorillas, the president of Uganda ordered the Uganda people's Defense force to soot on spot any poacher caught in the act of poaching or killing of these close relatives to human.
Home to mountain gorillas
Bwindi national park is not only one park in Uganda where gorilla trekking activity is done, still also comes the Mgahinga gorilla forest national park, this park also is located in the south western part of Uganda and it can be reached in a drive of about 8-10 hours from the capital city Kampala. Mgahinga national park is less visited than Bwindi national park, this is simply because it has only one gorilla family called Nyakagezi and previously the group used to cross boarders to Rwanda and come back after some months making it hard to guarantee trekking, however there is some consistence in their presence in the previous years and trekking is done every day in this one park.
Not only gorilla tracking, bwindi impenetrable national park has a number of other safari exciting activities one can enjoy while in the park including  nature walks to explore the park on foot this gives one a chance to see a lot of forest dwellers including flora and fauna.
Bird watching activity
Bird watching activity is another activity one is expected to enjoy in the park, so bird lovers don't miss visiting this wonderful and grate park. Bwindi only has over 348 with 14 not recorded anywhere else in Uganda. There are 23 birds unique to the Albertine rift (which is 90% of all albertine rift endemics) including Neumann's warbler and blue-headed sunbird. Migratory birds are present from November to April. Other bird species hornbills and turacos), handsome francolin, olive-breasted Greenbul, Ruwenzori Apalis, western green Tinker bird, Yello- streaked among others.
Community walk
 Community walk which takes you to meet the  (Batwa pygmy) they will give you a stole of their life and as well they will entertain you through their cultural dance, fire making skills, weaving making skills. Since Bwindi is made up of an impenetrable rain-forest, there is doubt that it provides the best atmosphere for nature lovers. 
There is a lot to enjoy while in bwindi impenetrable national park and a safari to Uganda with-out gorilla trekking is considered incomplete, so if you are planning a safari to Uganda, don't hesitate to contact Mum and Dad Uganda Tours, we will help you to book your gorilla permits and all the ground transportation service.
Bwindi a home to the mountain gorillas
4 days double gorilla trekking
8 days Kibale- Queen and Bwindi national park
3 days chimpanzee trekking in Kibale
6days gorilla and chimpanzee tour
4days bwindi and lake Bunyonyi