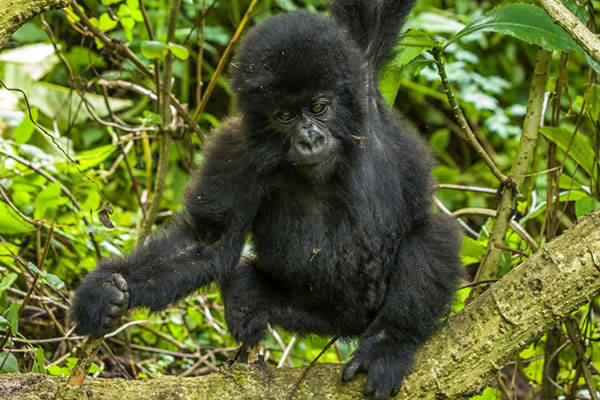 How to get a permit for gorilla trekking in Uganda?
How to get a permit for gorilla trekking in Uganda?, After realizing how cheap or expensive the cost of trekking gorillas is to reference one's pocket, then need to know how can one secure the permit to have a chance to trek the gorillas. In Uganda, gorilla trekking permits are only issued by Uganda Wildlife Authority (UWA) a government body concerned with all Uganda National Parks and Wildlife Reserves. The most convenient way to ensure a permit is using a local tour operator to aid in getting the trekking permit. Uganda has about 144 permits available for trekking daily in her two gorilla parks of Bwindi Impenetrable National Park and Mgahinga Gorilla National Park, but still, trekkers' demand to trek gorillas always supersede the supply which means the daily gorilla permits available are not enough. It's always advisable for one to ensure for a gorilla permit must book at least three month before trekking dates. same to Rwanda the same process is followed and early booking of gorilla permit in Rwanda is also called for to avoid last minutes booking which is always disappointing
Is the cost of gorilla trekking in Uganda worth the adventure?
How to get a permit for gorilla trekking in Uganda?, Yes, mountain gorilla are special blessings in the wild, can only be encountered in the forests of Bwindi Impenetrable National Park and the great Virunga Conservation Areas. Just recently mountain gorillas were on the IUNC red list of critically endangered species, gorillas almost tasted the feel of extinction and efforts were made to ensure their survival. These are critically sensitive species only endemic to their few forests of Bwindi and Virunga and they can't survive under any kind of captivity a reason why mountain gorillas can't be found in zoos.
Gorilla trekking an adventure just worthy the cost, imagine rolling into the unpredictable forest and walk you way in search for these critical species, the trek can last from 1 hour to about 5 hours to find just that one trekked gorilla group. On an encounter with the species and have an opportunity to meet on an eye to eye with giant you realize it is communicate something to you. An hour in the presence of the gorillas watching their wild activities of feeding, cheering, jumping into tree branches you just note that these are the closest cousins to man.
Before the conservation of the gorillas the government had to evict people who inhabited in the same forests. These are commonly known as the Batwa pygmy people who live in communities just close to the park, on the cost of every gorilla permit bout 20% is meant for those communities and also an endangered tribe of people in Uganda.
The last statements of this article, narrates considerations of why the cost of the gorilla permit in Uganda. Considering your trekking experience, conservation efforts, and limitation needed to ensure sustainability of the gorillas in the wild makes gorilla trekking just worth the cost.