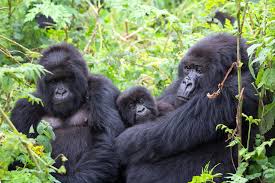 Discounted Rwanda Gorilla Permits for trekking in 2020-2021
Discounted Rwanda Gorilla Permits for trekking in 2020.
On 17th June, 2020, Rwanda reopened its national parks to tourism after three months of lock-down due to the Covid-19 pandemic and with that, came the overwhelming news of very significant discounts in the price of Gorilla permits for the year 2020-2021. Discounted Rwanda Gorilla Permits for trekking in 2020-2021
Currently, discounted Rwanda Gorilla permits are on offer at $200 for Rwandan nationals and all East African citizens, $500 for foreign residents of Rwanda and that is a huge discount considering that the price has been $1500 each permit for all intending to take part in Gorilla trekking in Rwanda.
The $500 cost of the gorilla permit in Rwanda for foreign residents is now even less than what it costs in Uganda where the permit now costs $700. ,Overtime, Rwanda has successfully positioned itself as the leading destination for luxury Gorilla trekking experiences in Africa and these price reductions come as an incentive to jump-start tourism in Rwanda since mountain Gorillas are the country's major tourism product.
The discounted permits therefore, will only last until 31st December, 2020 after which, the price will return to the previous $1500 for each permit for everyone taking part in the Gorilla trekking activity.
Note: The $500 discounted gorilla permits are only available to Rwandan nationals and foreign residents in Rwanda. Anyone else planning to visit Rwanda for Gorilla trekking including nationals of East African countries, pays the normal permit price of $1,500.
Gorilla permits are available throughout the year in Rwanda and the activity is done in Volcanoes national Rwanda's famous and most visited park attracting a huge number of travelers whole over the world who come and spend 1 or 2 days in the park with the gorillas our closets relatives.
Gorilla trekking experience begins very early in the morning after reporting at the park headquarters early in the morning to receive short briefings about the dos and don'ts while with the gorillas and also gets you assigned to the ranger guide who will take you through the forest during the search of the apes. Gorilla trekking activity is unpredictable it can go from1 -8 hours and once they are met, you are strictly allowed to stay with them for only one hour in their presence. Book your gorilla permit today with Mum and Dad Uganda tours and stand a chance to participate in this breathtaking memorable tour and have your dream comes true!
Everyone aged 15 years and above can be allowed to take part as of today, 4th September, 2020.
All international travelers MUST test negative for Covid-19 72 hours before departure and will undergo another test upon arrival in Rwanda.
All participants MUST test negative 48 hours before the tracking date.
Anyone with high temperatures and other signs of sickness including flue and cough will not be allowed to take part in Gorilla trekking to minimize the risk of the mountain Gorillas contracting the highly infectious virus.
The above, must be observed alongside the regular do's and don'ts of Gorilla trekking as communicated on the day of the trek during your briefing.
Its been long under lock down. the flights resumes operating and the borders were opened, lets begin  traveling, while observing the SOPS, DON'T FORGET your mask and possible carry your sanitizer and enjoy Discounted Rwanda Gorilla Permits for trekking in 2020-2021.