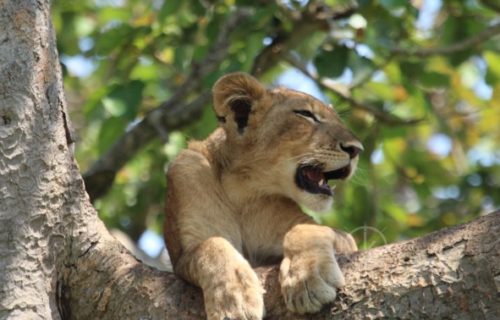 Uganda Safaris to book in 2022/2023
Uganda Safaris to book in 2022/2023 – Gorilla safari in Bwindi 2022 & Wildlife Tours with Mum and Dad Uganda Tours
Uganda Safaris to book in 2022/2023,For nature lover, Uganda is one of the best countries to think of, it was named by Winston Churchill In his book "My African Journey" published in 1908, referred to Uganda as the "Pearl of Africa". This was so because of the many incredible attractions and the many African secretes of which many are still untouched just waiting for you to explore. Uganda safaris 2022/2023 are now the next big thing, especially for nature lovers. Book gorilla tours in bwindi national park and or Mgahinga gorilla forest national park. And or the wildlife viewing adventure in Uganda's best savannah parks. Now that the world is trying to get rid of COVID 19 travels has resumed and many people have started travelling, there is a need to relax and take the worries away by going on a safari holiday to Uganda. Here at Mum and Dad Uganda Tours we arrange safaris to various tourist destinations including Uganda, Rwanda, Kenya, Congo, and Tanzania. We handle all types of travelers whether looking for budget gorilla safaris, luxury gorilla safaris or wildlife safaris we are always at your disposal
Which Tour Activities to book in Uganda 2022/2023
If you are looking at travelling to any of the above mentioned countries book bellow some of the mentioned safari activities available in 2022/2023.
Gorilla trekking safari in Uganda 2022/2023
Uganda is known as one of the three African safaris destinations hosting the endangered apes and these live in two parks including bwindi impenetrable national park and Mgahinga gorilla forest national park, both parks are located in the south western part of Uganda. Gorilla trekking in Uganda is the leading tour activity and it's the most booked and done safari activity when compared to any other safari activity done in Uganda. Many travelers world-wide leave their beautiful homes and offices and come and spend some precious time with these endangered apes in their nature habitat deep in the forest. Bwidi national park is the most visited park in Uganda for gorilla trekking since it has over 18 gorilla families which are ready to receive visitors on a daily basis. Before planning a gorilla safari to Uganda in 2022/2023 you are required to think first about a gorilla permit which is a passport for gorilla trekking adventure, a gorilla permit in Uganda costs $700 per person/trekking.
Wildlife Tours in Uganda 2022/2023
Are you coming/ interested in wild animals and game viewing experience in Uganda's savannah parks? Uganda is the best park to think of. Uganda has over 5 national parks and reserves that offers opportunity for game viewing. To mention some of the parks that are best for wildlife tours include Murchison falls national park, Queen Elizabeth the national park which is also known for its tree climbing lions, Kidepo valley national park, Lake Mburo national park etc. On a Uganda wildlife safari, you will be able to view various wild animals including the big five games like lions, elephants, leopards, giraffes, hippos, as well as many small games such as various species of antelopes, warthogs, giraffes, and more. Game drives are conducted in well-built 4×4 safari vehicles with rooftop tents including land cruiser TX, TZ, V8, land cruiser extended GX etc
Chimpanzee tracking adventure in Uganda 2022/2023
For primate lovers, Uganda is a perfect place to go chimp trekking and its one of the most exciting activity one should not love to miss. Trekking the chimps in their nature inhabitant is regarded a memorable experience. Chimps are fabulous fun to watch while playing in fruitful trees or tree blanches.  Chimp trekking really gives the best experience out of your money and a chimp permit costs $150 in Kibale forest national park and $50 in Kyambura gorge of Queen Elizabeth national park. Visit Uganda to see chimps this or next year and you will have the best from your money. Book a chimp tracking tour 2022-2023 with us today! Kibale is known as the best chimp trekking destination in Uganda and the park is located in the south western part of Uganda
Cultural Tours Uganda 2022/2023
If you a kind of a person who is interested in exploring African culture, Uganda is known as a cultural melting spot with over 54 tribes, meet the local people and some of the historical sites in Uganda. Get to know more about Africa culture on a visit to Uganda, you will get more information on how they have managed to live, interact with them and learn some of their local words, learn some farming skills, buy some locally made items by the local people.
Birding in Uganda #Uganda Safaris to book in 2022/2023
For any bird lover, Uganda is known as a birder's paradise and if you are looking for bird watching safari in 2022-2023, Uganda is the best place to go. Book with us and we shall take you to the best birding destinations in Uganda. Uganda is a home to over 10 national park and over 12 game reserves each park and reserve is a home to various species of birds some of which can't be seen elsewhere in the world, even within Uganda's capital city Kampala, you can still spot many birds. Uganda has many species of birds the list is endless. We have the best bird watching guides to help you see and know some of the rare bird species in Uganda.
Other thought after safari activities to Book in Uganda for 2022/2023
City tours Uganda explore Kampala city, Mbale city, Jinja City, Entebbe city among others
Mountain Hiking tours Uganda, hike Mt, Rwenzori and Mout. Elgon
Nature walks in Uganda
Bungee Jumping Uganda, White water rafting at the source of the Nile
Boat Rides in Uganda organized at kazinga channel in Queen Elizabeth national park, Murchison falls national park, Lake Mburo national park
Rhino Tracking Uganda done at ziwa rhino sanctuary