Are you scheduling a safari in Rwanda?
Are you Planning a safari in Rwanda; Rwanda is sometimes referred to as the land of ''a thousand hills'' . This country attracts a big number of tourists whole over the world who jet into the country to have a glance at the many attractions it hosts. Below is a list of the many things you should do and see when you visit Rwanda. Are you planning a safari in Rwanda?
Gorilla Trekking Rwanda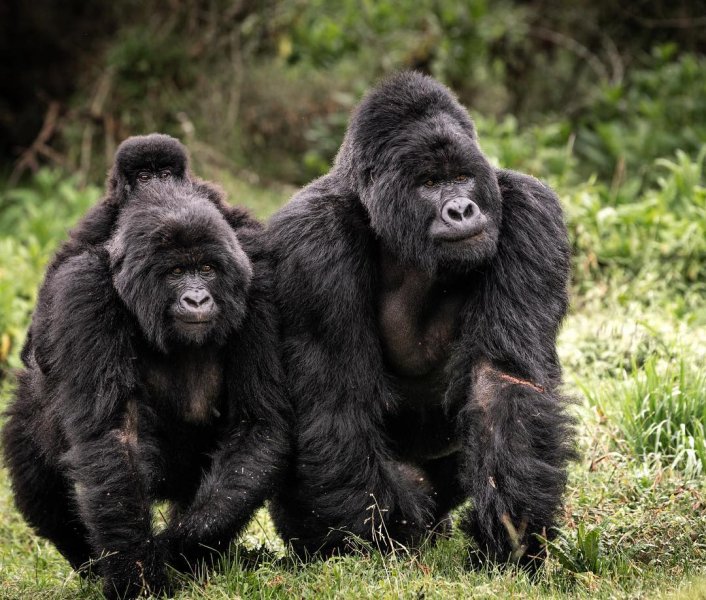 Rwanda is known as one of three African countries in the world that hosts the endangered mountain gorillas. Also, it is the second after Uganda for hosting the big percentage of these rare apes. Over 350 out of about 850 mountain gorillas that remain in the world live in Rwanda's Volcanoes national park. Additionally, the park is located in the northern part of Rwanda. This is about 2-3 hours' drive from Rwanda's capital Kigali.
Most famous attraction
Gorilla trekking is Rwanda's most famous activities. It is also regarded as the most interesting safari activity. The activity begins very early in the morning. After reporting at the park headquarters, you will receive a short briefing from the park wardens. They will brief you about the dos and don'ts while with the gorillas. Also, you will get allocated to the gorilla family to trek on that particular day.
There are 10 habituated gorilla families in Rwanda, all found on the slopes of the Virunga Mountains. Gorilla trekking activity is unpredictable. The trek can last between 2-6 hours in the jungle since meeting them depends on where they last spent their night.
Once you meet them, you will have strictly one hour with them while studying their behaviors. Also, you may take as many photos as possible. However, when taking photos you should not use flash cameras. Additionally, must stay a distance of 10m away from the gorillas. You are advised to book gorilla permits prior to the trekking date, since permits are sold on first come first served basis. Late booking of the gorilla permit is sometimes disappointing.
Gorilla trekking permits
Rwanda Gorilla permits cost $1500 per permit. Mum and Dad Uganda Tours will help to book your gorilla permit. You can plan a gorilla trekking trip with a few other activities thrown in for variety and more excitement. This is one activity you cannot possibly regret signing up for.
Rwanda's Volcanoes national park has a wide variety of safari activities. It is one of the most famous tourist destinations in Rwanda. There are so many things to see and enjoy in this park. You can go gorilla trekking and meet the endangered mountain gorillas in their natural setting.
Rwanda is one of the three countries with mountain gorillas. The other two include Uganda and DRC. Another interesting safari activity is golden monkey tracking.
Other activities are Volcano climbing and hiking, bird watching, nature walks, cave exploration, visiting Diane Fossey's research camp and so much more.
Nyungwe forest national park is a another sought after place to visit while in Rwanda. The park has a large track of Montane Forest with all so many phenomena the park is located in the Southern part of Rwanda about 5 hours' drive from Rwanda's capital Kigali.
The park is an exciting place to explore since it has many things to see and do. Nyungwe forest national park is known for housing over 13 species of primates including the famous chimpanzees, our closest relatives. Chimps are so fun to watch as they play in fruitful trees. They can also be found doing their daily activity such as feeding, mothers breastfeeding, making nests among many others.
Like the gorillas, you are also strictly allowed to stay with the chimps for one hour once they are met. The one hour spent with the chimps is regarded as an exciting moment! Run and book your Rwanda chimp tour before it's late. Other primates species you won't miss to see in Nyungwe forest include the black and white colobus monkey, red tailed monkey, civet monkey, baboons just to mention but a few.
At Nyungwe forest NP, you can also opt for a canopy walk through the forest; one of only three in Africa. This canopy walk is 50 meters above the ground and is even above the tree tops. In addition to the canopy walk, you can also enjoy nature walks, monkey tracking and birding. Additionally, Nyungwe is one of the best birding destination in Africa. Therefore, Nyungwe forest should be a must on your Rwanda safari itinerary.
For anyone interested in wildlife viewing, Rwanda's Akagera national park is the one best places to go and its known as Rwanda's only savannah park located in the Eastern part of Rwanda next to the border with Tanzania. Game viewing is superb.
Games to see during a game drive in the park include elephants, buffaloes, lions, elephants, hyenas, antelope species, warthogs, hippos, among many others.
Akagera is the only park where you can do day or night game drives. Game drives are guided by experienced guides who will give you informative information to any species of animal that come on way.
Other safari activities worth to do while at the park include boat safaris on the lake which gives a great chance to see several species of animals that live and feed on the lake including hippos, crocodiles, buffaloes and birds. You can see them along the shoreline. Hiking, fishing, birding, village visits are among the interesting safari activities one should not miss while in the park. Also, you will be able to stay in one of two lodges that are located within the park.
Relaxation at Lake Kivu
Lake Kivu is simply a perfect place to visit in Rwanda. Lake Kivu is just a wind down and relax after a full day or days of Rwanda safari activity. For any tourist on a Rwanda safari you are not advised to leave Rwanda without a visit to this cooling Rwanda's lake as you will feel relaxed and break your fatigue before you depart to your homeland.
Lake Kivu can best be visited after mountain gorilla trekking, mountain climbing, hiking, chimp trekking in Nyungwe forest national park, biking the Nile Congo trail, and all the other activities you can possibly do. While on Rwanda tours, you will need a good place to chill and relax and come down from the adrenaline highs.
It is Rwanda's very own inland beach and it doesn't disappoint. Lake Kivu offers you sandy beaches, swimming, fishing, boating, wind-surfing, sail-boating, biking, nature-walks, cultural visits on, along or near Lake Kivu, you will not even miss the ocean beaches. Indeed Lake Kivu is worth to visit while on a Rwanda safari!
The Genocide Memorials sites of Rwanda:
It's very hard to leave Rwanda without taking a visit to the genocide memorial sites where over 1m people lost their lives within 100 days, this happened in 1994. The genocide tore the small nation into shreds but it has managed to rise from the ashes and the country is now considered one of the safest nation in Africa. No one ever wants to see such days again and the slogan never again can be seen in various places across the country. After the genocides, memorial sites where constructed and such days are remembered each year as a sign of memorizing what happened and triggered this terrifying war which was between the Hutus and Tutsis.
There are memorial sites across the country, monuments and reminders of those dark days, and of the victims who were killed in those 100 days. Some of the memorial sites to visit include: Kigali genocide memorial sites, the Murambi Genocide Memorial Site, Nyamata church genocide memorial site, Gisenyi genocide Memorial Site, Ntarama Church Genocide Memorial Site, Bisesero Genocide Memorial Site among others.
Conclusion
Rwanda is worth visiting and you can do a number of many safari activities while on a Rwanda safari. The country has a rich culture and its people are very friendly. Also, the mountain gorillas, rich history and culture with a variety of many wildlife species makes Rwanda a perfect destination. Book your next Rwanda tour with us, Mum and Dad Uganda Tours is there to take you where you have not been before. Not only that but we will drive you in a luxury safari land-cruise or van and enjoy a great experience.