5 best places to see chimpanzees in Uganda
5 best places to see chimpanzees in Uganda, For primate fanatics, it is thrilling to know. That Uganda is home to the endangered chimpanzees, occupying different locations. These Great Apes are the closest relatives to humans. Sharing about 98.7% of our DNA and over 5000 of them call the rainforests of Uganda home. The chimps in this country (Uganda) are part of Eastern chimpanzees. And live in well-knit troops or communities of 10-30 members.
However undertaking a chimpanzee trekking adventure is the perfect way to see these beautiful creatures. In the jungles of Uganda. For this reason, analyze the 5 best places to see chimpanzees in the country.
Chimpanzees in Kibale Forest National Park
Set in the west of Uganda, Kibale Forest National Park by far the best place to see endangered chimpanzees. In the country because it has the highest concentration of these Great Apes in the wild. Adventures here are done twice a day-Morning and afternoon. With armed Rangers as well as experienced guides, and they usually take 1-3 hours before the chimpanzee community  finally found.
However, as remarkably rewarding as the adventure is, visitors are limited to spending only 60 minutes with the chimpanzee community. To avoid any behavioral changes or being disruptive as they go about their normal lives. While treks are going on, other primates especially grey-cheeked mangabeys, Olive baboons, L'Hoests monkeys, red colobus monkeys, vervet monkeys, red-tailed monkeys, blue monkeys, black and white colobus monkeys, patas monkeys, Pottos and many others as well as birds and other mammal species.
The 6 habituated chimpanzee communities  visited by 6 persons per session. And considerably shorter than gorilla treks. The creatures found swinging through the dense rainforest, making calls and munching on succulent vegetation. Another reason why this destination is the best for trekking chimpanzees. Is that visitors can add Bigodi wetland Sanctuary, adjacent to the Forest where 200 bird species as well as primates spotted. Chimpanzee permits for Kibale Forest cost $200, $150 and Shs. 150,000 for foreign non-residents, foreign residents and East African visitors respectively.
Chimpanzees in Kaniyo-Pabidi, Budongo Forest
Set in the north-west of Uganda (at the edge of Murchison falls National Park), Budongo ForestBanother excellent place to see chimpanzees in Uganda. This site is about 4-5 hours' drive from Kampala City and a haven to about 800 individuals. The activity  enjoyed all year round within Kaniyo-Pabidi sector in two sessions, in the morning and afternoon.
This Forest  arguably a biodiversity hot spot with large Mahogany tress among other tree species in addition to red-tailed monkeys, blue monkeys, Olive baboons, black and white colobus monkeys, vervet monkeys and many others. This is a perfect place for travellers who wish to enjoy Wildlife and Chimpanzee tours without so much hustle. Permits for trekking chimpanzees in Budongo Forest cost only $130, $120 and $85 for foreign non-residents, foreign residents and East Africans respectively.
Chimpanzees in Kyambura Gorge
Another impossible-to-miss place to see Chimpanzees in Uganda is Kyambura Gorge, a narrow underground forest set in the extreme Eastern side of Queen Elizabeth National Park. This "Valley of Apes" has a depth of 100 meters and boasts of rich diversity that include up to 6 primate species. For the chimpanzees, about 30 of them call this forest home hence tours organized by visitors who already booked for wildlife viewing experiences within Queen Elizabeth National Park.
Chimpanzee trekking tours through Kyambura Gorge reward visitors with the golden chance to see some of the isolated chimpanzees alongside Olive baboons, red-tailed monkeys, vervet monkeys, as well as black and white colobus monkeys. Additionally, a number of forest birds encountered during chimpanzee treks in this lush forest. Chimpanzee trekking permits in this area cost $50 per person for foreign visitors and Shs. 30,000 for East African visitors.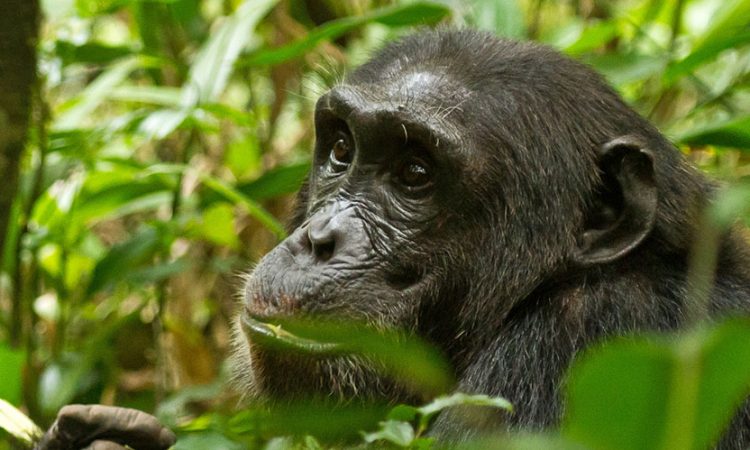 Chimpanzees in Kalinzu Forest
Set in Western Uganda, Kalinzu Forest  located in the south-western side of Queen Elizabeth National Park and offers extraordinary chimpanzee trekking experiences. Travellers should be physically fit and involve 1-3 hours of walking through different terrains, some of which are difficult. You will be surprised to discover that over 250-300 chimpanzees call this forest home, of which only 40 have been habituated by a Japanese Research Group for tourist visits. Permits for this safari destination cost $50 for foreign tourists while East African tourists are charged Shs. 30,000 per person.
Chimpanzees in Toro-Semliki Wildlife Reserve
The spectacular Toro-Semliki Wildlife Reserve another popular place to see chimpanzees in their natural habitat. These creatures  habituated by Indiana University and require permits of $30 for foreign travelers as well as Shs. 20,000 for the East African travelers. Participants have to be 12 years as well as possess basic fitness levels to undertake this adventure
Other places to see these outstanding Eastern chimpanzee species in Uganda for example  Ngamba Island Chimpanzee Sanctuary, Maramagambo forest and Uganda Wildlife Education Center.
Guidelines  followed when visiting Chimpanzees in Uganda
For any destination you explore, there are a set of guidelines  followed when visiting Chimpanzees and these include;
Participants  at least 12 years old are allowed to trek chimpanzees in the wild.
Keep a minimum distance of 8 meters away from these Great Apes at all times and also avoid touching them.
Sick travellers (especially flue and cough) not allowed to trek chimpanzees at all times.
Flash cameras should be avoided for photography.
Avoid eating, smoking and drinking in front of Chimpanzees.
Lodges in Kibale fores national park, these range range from budget to Luxury Lodge to mention some include:
Inside the park accommodations include;
Chimpundu Lodge(Luxury lodge)
Primate Lodge Kibale (midge range)
Kanyanchu river lodge(Budget)
Bigodi Region
Turacco Tree Tops (Mid-range)
Kibale forest Lodge(Mid Range)
Chimps Nest(Mid-range)
Montana Tented Camp(Budget)
Safari Hotel Bigodi (Budget)
North of Kibale
Kyaninga Lodge (Luxury)
Mountains of the Moon (Mid-range)
Lake Nkuruba Nature Reserve(Budget)