Boat trip safari in Uganda
Boat trip safari in Uganda, Uganda is a landlocked country, which means it doesn't have direct access to the sea. However, it does offer several opportunities for boat trips and safaris on its lakes and rivers. One of the most popular destinations for a boat trip safari in Uganda is the Queen Elizabeth National Park. Which is located in the southwestern part of the country.
In Queen Elizabeth National Park, you can embark on a boat cruise along the Kazinga Channel. Which connects Lake Edward and Lake George. This boat trip offers a fantastic opportunity to view a wide variety of wildlife. Including hippos, crocodiles, elephants, buffalo, and numerous bird species that inhabit the shores of the channel. The boat ride usually takes about 2-3 hours. And it's a great way to observe animals up close in their natural habitat.
Another option for for this activity in Uganda is on Lake Mburo, located in Lake Mburo National Park. This smaller national park is known for its diverse wildlife. Including zebras, impalas, elands, hippos, and a variety of bird species. Taking a boat trip on Lake Mburo allows you to spot animals coming to drink at the water's edge. And you can also enjoy the scenic beauty of the lake and its surrounding landscapes.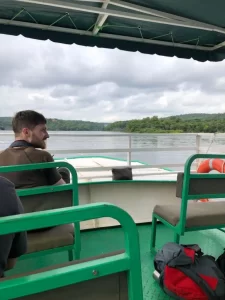 Additionally, the Murchison Falls National Park offers boat safaris on the Nile River. The boat trip takes you upstream to the base of the magnificent Murchison Falls. Where the Nile River squeezes through a narrow gorge, creating a breathtaking sight. Along the way, you can spot hippos, crocodiles, elephants, and a variety of bird species. The boat safari in Murchison Falls National Park is a unique experience. That combines wildlife viewing with the incredible power and beauty of the falls.
When planning a boat trip safari in Uganda, it's essential to check the current regulations, availability, and safety guidelines with the national park authorities or tour operators. They can provide you with up-to-date information. And help you organize a memorable and enjoyable boat trip safari experience in Uganda.