Visit Ngamba Island Chimpanzee Sanctuary
Visit Ngamba Island Chimpanzee Sanctuary, Ngamba Island Chimpanzee Sanctuary is a must-visit destination for wildlife enthusiasts and those interested in chimpanzee conservation. Located on Ngamba Island in Lake Victoria, near Entebbe in Uganda, the sanctuary provides a safe haven for rescued and orphaned chimpanzees. Here's some information about visiting Ngamba Island Chimpanzee Sanctuary:
Getting to Ngamba Island:
Ngamba Island is approximately 23 kilometers south of Entebbe, and the sanctuary is accessible by boat. The sanctuary operates scheduled boat trips to and from the island, usually departing in the morning and returning in the afternoon. The boat ride takes about 45 minutes to 1 hour, offering scenic views of Lake Victoria along the way.
Chimpanzee Encounters:
The primary attraction at Ngamba Island Chimpanzee Sanctuary is the opportunity to observe and interact with chimpanzees. The sanctuary is home to over 50 chimpanzees, and visitors can witness their daily feeding sessions and observe their behavior in a semi-wild environment. Trained caregivers provide information about the chimpanzees' background and ongoing conservation efforts.
Chimpanzee Feeding Experience:
One of the highlights of a visit to Ngamba Island is participating in the chimpanzee feeding experience. Visitors can assist the caregivers in providing food to the chimpanzees on a viewing platform, offering a unique opportunity to see them up close. It's a remarkable and educational experience that allows you to witness the chimps' intelligence, social dynamics, and natural behaviors.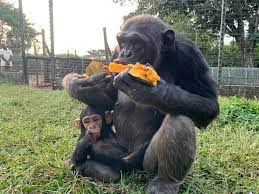 Nature Walks and Bird Watching:
Ngamba Island offers more than just chimpanzee encounters. You can also explore the island's lush vegetation and diverse birdlife through guided nature walks. The sanctuary is home to a variety of bird species, making it a great spot for birdwatching enthusiasts.
Overnight Stays:
For a more immersive experience, Ngamba Island Chimpanzee Sanctuary offers overnight stays in eco-friendly accommodations on the island. This allows visitors to spend more time with the chimpanzees and enjoy the peaceful ambiance of the island. Overnight guests can engage in additional activities, such as sunrise and sunset boat cruises.
Support Chimpanzee Conservation:
By visiting Ngamba Island Chimpanzee Sanctuary, you contribute to the conservation and welfare of chimpanzees in Uganda. The sanctuary actively works towards conservation initiatives, public education, and community outreach programs.
Before visiting Ngamba Island Chimpanzee Sanctuary, it's advisable to make reservations in advance, especially during peak tourism seasons. This ensures availability and allows for a well-planned and enjoyable experience with the chimpanzees.
How to reach Ngamba Island ?
To reach Ngamba Island Chimpanzee Sanctuary in Uganda, you will need to travel to Entebbe, which is the nearest city to the sanctuary. Here's a step-by-step guide on how to reach Ngamba Island Chimpanzee Sanctuary:
Arrive in Entebbe:
Book a flight to Entebbe International Airport, which is the main international gateway to Uganda. Several airlines offer flights to Entebbe from various international destinations. Once you arrive at the airport, proceed through immigration and collect your luggage.
Travel to Entebbe:
If you are already in Uganda, you can reach Entebbe by road or domestic flights from other parts of the country. Entebbe is located on the northern shores of Lake Victoria, approximately 40 kilometers south of the capital city, Kampala.
Organize Transportation:
Contact the Ngamba Island Chimpanzee Sanctuary or a local tour operator to arrange transportation to the sanctuary. The sanctuary typically operates scheduled boat trips to Ngamba Island, departing from the mainland in Entebbe. They can provide you with information on boat schedules and availability.
Boat Ride to Ngamba Island:
Proceed to the designated meeting point in Entebbe, where the boat to Ngamba Island departs. The boat ride from Entebbe to Ngamba Island usually takes around 45 minutes to 1 hour, depending on weather conditions and water levels. Enjoy the scenic views of Lake Victoria during the journey.
Arrival at Ngamba Island:
Upon reaching Ngamba Island, you will be welcomed by the sanctuary staff. They will provide you with information about the sanctuary, safety guidelines, and the activities available during your visit.
Note: It is advisable to check the boat schedules and make reservations in advance to ensure availability, as the number of visitors allowed on each boat trip is limited. Also, consider confirming the latest transportation arrangements with the sanctuary or your tour operator a few days before your planned visit to Ngamba Island.
Remember to bring essentials like sunscreen, insect repellent, comfortable clothing, and a camera to capture the memorable moments of your visit to Ngamba Island Chimpanzee Sanctuary.