What to Expect on a Safari in Kenya
What to Expect on a Safari in Kenya, Prior to undertaking your first safari in Kenya, it is usually difficult to imagine what to expect. You might have an idea or two about the daily routine as well as the general experience during your trip but it is still not surprising to have lots of unanswered questions. We shall provide a breakdown of what you can expect on a safari in Kenya, from sunrise to sunset.
Before delving into what to expect on your safari, it is worth noting that Kenya is known for its classic safaris that combine some of the most endowed Big Five destinations on Earth with breathtaking landscapes that are undeniably grand and iconic. The country boasts different landscapes that offer lots of safari activities that include guided bush walks through some of the remotest and pristine places, game drives in open-roof safari vehicles, helicopter tours, hot air balloon tours, scenic bush breakfasts, sundowners and bus dinners, Camping, and bush picnics, and so much more. Budget Kenya safaris involve undertaking overland tours in safari vans or modified trucks while staying at Hotel-style Safari Lodges offering standard accommodation. For midrange and high-end safaris, travelers can opt for the open-roof Safari Land Cruisers while staying at Safari Camps/Lodges with breathtaking locations and fine dining experiences.
Here's what to expect when on a safari in Kenya;
Early wake-up calls and late evening return to the Safari Camps/Lodges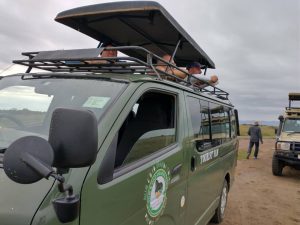 One of the things you should expect on a safari in Kenya is to be woken up early (before sunrise) when it is still dark for game drives. Wildlife viewing is perfect before sunset because it is an ideal time for spotting nocturnal wildlife species (such as lions, leopards, cheetahs, and others) while they are still hunting. The best way to be up early is by going to bed early (immediately after dinner) and you can request the Lodge/Camp wake-up call service to avoid waking up late and missing out on the interesting sights of the morning.
For afternoon/evening game drives, you will return to the Safari Lodge/Camp after dusk to freshen up and relax before your dinner. It is common for travelers to gather around campfires to share stories/experiences before a sumptuous dinner under the beautiful stars.
Expect to get up close with wildlife species in their natural habitats
Typical safaris in Kenya involve undertaking game drives in open-roof safari vehicles where wildlife species can be spotted in close proximity to the vehicles. However, don't let excitement get into your head by getting out of the vehicle but rather remain calm and inside during game viewing. Even during camping and bush dinners/or campfires, you will have protection from Park Rangers. Travelers aren't allowed to leave safari vehicles without Rangers' permission and company.
There are no toilets in the wild#What to Expect on a Safari in Kenya
Typical game drives in Kenya's National Parks and Game Reserves last between three and four hours, or sometimes even longer, and while you are at it, remember that there are no toilets in the wild. For this reason, first use the toilet before embarking on the game drive. Also, don't take lots of fluids (water, tea, coffee, or juice) before the game drive unless you are okay with answering the call of nature in the bush. Your guide will dig a pit and cover it after using it.
The Big Five game will not be seen during every game drive
Travelers usually have many expectations during safaris and these include seeing the Big Five game (Lions, Leopards, Rhinos, Elephants, and Buffaloes) but it is not always guaranteed. There are days when you will see lots of wildlife while there are those you will see few. For this reason, just head on the game drive with an open mind and expect to enjoy the Protected Areas for their landscapes, sceneries, and even bird species. Your safari guides will provide information on the attractions and will even be entertaining during your game drive.
There will be stops for drinks during game drives
Typical game drives in Kenya involve stops for drinks and rest for a few minutes. If you are undertaking a morning game drive, then expect a simple bush breakfast- tea/coffee with snacks (cookies, sandwiches, groundnuts, or crisps). The afternoon/evening game drives come with cold drinks and fried fruits or crisps. However, the safari guides might opt not to have the coffee/tea and drink beaks during intense game drives to maximize your experiences.