5 Top Places to Travel with your Friends in Uganda
5 Top Places to Travel with your Friends in Uganda, Uganda is a beautiful and diverse country in East Africa with a lot to offer travelers. When traveling with friends in Uganda, you can explore its stunning landscapes, wildlife, culture, and outdoor adventures. Here are five top places to consider visiting with your friends in Uganda:
Bwindi Impenetrable Forest National Park:
If your main aim is to discover, experience, and explore Uganda's main attractive features recorded on its great list of enticing attractions. You should not miss the amazing Bwindi impenetrable National Park on your bucket list of top tourist sites. In order to spend some time while in Uganda "The Pearl of Africa" for your great discoverable vacation.When it comes to exposure of Uganda's tourism then Bwindi Impenetrable National Park should not be minimized. Bwindi is famous for its population of endangered mountain gorillas. Trekking to see these majestic creatures is a once-in-a-lifetime experience. It's an opportunity for you and your friends to get up close to these incredible animals while also supporting their conservation.Gorilla trekking regarded as the most done safari activity done in the park, in order to enjoy this activity, one has to own a gorilla permit. Apparently, an Uganda gorilla permit costs $700 per person per trekking. And one is required to own a gorilla permit prior to gorilla trekking. Gorilla permits are in very high demand sometimes they get finished early. On the day of gorilla trekking, you are required to first report at the park headquarters. To receive short briefings about the dos and don'ts while with the gorillas. ounce they are met, you are only allowed 1 hour with them
Queen Elizabeth National Park #5 Top Places to Travel with your Friends in Uganda

Queen Elizabeth National Park ranked among the top ten must-visit Uganda's National Parks geographically located in the Western Part of Uganda. Along Uganda's border with the Democratic Republic of Congo. The boundaries of the Park includes the Kazinga Channel. Which connects the two lakes named Lake George on Uganda side and Lake Edward on Democratic Republic of Congo side.his park is known for its diverse wildlife, including lions, elephants, hippos, and a variety of bird species. Take a safari through the park and enjoy game drives, boat safaris on the Kazinga Channel, and scenic drives through the Ishasha sector, known for its tree-climbing lions.
Murchison Falls National Park#5 Top Places to Travel with your Friends in Uganda
This is another stunning Park to go to particularly for tourists interested in Wildlife and nature; it's recorded with a great list of different Wildlife species offered plus its sparkling and great flowing falls which attracts in more tourists from different countries of the World, this park is mostly liked for holiday vacations. An en-route stopover in Nakitoma- Nakasongola district  included for a visit to the exceptional Ziwa Rhino Sanctuary for Rhino tracking session which goes for about one hour at a cost of $50 USD per person.Murchison Falls is Uganda's largest national park, and it's home to the powerful Murchison Falls on the Nile River. You and your friends can go on game drives, take a boat trip to the base of the falls, and even enjoy a hot air balloon safari for a unique perspective of the park.
Jinja: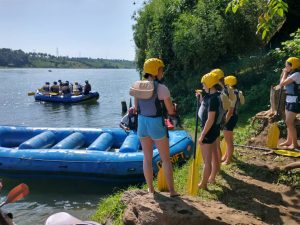 Jinja is the adventure capital of Uganda and offers a range of thrilling activities. adventure activities to do in Jinja include; the mythical white water rafting on the Nile, boat cruise on the source Nile regarded as magical experience, bungee jumping, kayaking, jet boating, Fishing, bird watching, squad biking and horse riding in communities along the Nile, all these activities are regarded as memorable,
Lake Bunyonyi:
If you're looking for a more relaxed and scenic spot, Lake Bunyonyi is a tranquil, picturesque lake surrounded by terraced hills. You can go canoeing, take boat trips, or simply relax by the lake and enjoy the stunning views. There are also a few islands on the lake to explore, each with its own charm.
While visiting these places, make sure to respect local customs and the environment, and consider guided tours for a more enriching experience. Uganda is a country with incredible biodiversity and natural beauty, and exploring it with friends can create lasting memories.