Car rental/4×4 Uganda car rentals

Car rental/4×4 Uganda car rentals, Are you looking for car rental in Uganda, Kenya, Tanzania, Rwanda for either self-drive or with a driver don't look no further, 4×4 Uganda car rentals under Mum and Dad Uganda Tours have plenty of cars for hiring at affordable rate. And if you need to  hire a car with a  rooftop tents or accommodation we can still hire them to you and save the money you have used on accommodation for shopping.
All our rooftop tents come with all the camping equipment. So if you are looking for a rental car for self-drive in Uganda Mum and dad Uganda Tours is always at your disposal, we offer personal service to travelers interested in exploring Uganda on their own time. Some travelers prefer travelling at their own and explore the undiscovered on their own, so if you are the kind of traveler we can hire you the car and drive yourself.
Our Services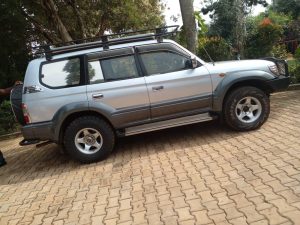 Car rental/4×4 Uganda car rentals, Our rental car hire services begins from as low from USD 45 per day for a Rav4 self drive to $65 for land cruiser Prodo, and $85 for land cruiser V8. With the self-drive car rental program, you have the freedom to explore Uganda, visit the gorillas in bwind or Mgahinga national park, go wildlife watching in Uganda's top national parks including queen Elizabeth national park, Murchison falls, Lake Mburo national park and Kidepo valley national park, all these parks offers the best wildlife viewing experience also with your self-drive safari, visit the idyllic villages and the top places by car at your own pace.
We guarantee your travel experience will be easy and stress free throughout your holiday.Download the following safety and agreement terms and conditions for a smooth renting process;
In order for smooth using of our car rental service, before handing over the car to our clients, he/she must read and understand and sign on our agreement, you can down load for a smooth renting process
Why hiring a car on self-drive
Flexibility and Independence:
Renting a car for self-drive allows you to have full control over your itinerary and schedule. You can explore at your own pace, make spontaneous stops, and deviate from the usual tourist routes. You have the freedom to choose when and where to go, providing a more personalized and flexible travel experience.
Privacy:
Self-drive gives you privacy during your travels. You don't have to share the vehicle with strangers or adhere to the schedule of a group tour. This privacy can be particularly beneficial for couples or families who want to enjoy quality time together without external interruptions.
Convenience:
Renting a car for self-drive offers convenience, especially when it comes to transportation logistics. You don't have to rely on public transportation schedules or wait for taxis. You have the convenience of having your vehicle readily available, allowing you to start your journey whenever you want and explore different destinations efficiently.
Cost Savings:
Depending on the destination and travel plans, self-drive can be a cost-effective option. It eliminates the need to hire private drivers or pay for expensive guided tours. Additionally, renting a car gives you the flexibility to choose accommodations in various locations, which can often be more affordable than staying in centralized tourist areas.
Local Immersion:
Self-drive allows for a deeper immersion into the local culture and lifestyle. You have the opportunity to interact with locals, explore hidden gems, and experience the destination from a local's perspective. It can provide a more authentic travel experience and allow you to discover off-the-beaten-path attractions.
However, before opting for self-drive, it's important to consider factors such as driving regulations and road conditions in the destination country, obtain the necessary permits or licenses, and be comfortable driving in unfamiliar environments. It's also essential to choose a reputable car rental company that offers well-maintained vehicles and provides adequate insurance coverage for your peace of mind. For more information about Self-drive car rentals, you can contact us through our email or by our telephone from the site.
4×4 Uganda Car Rentals Agreement 
Enjoy yourself drive! Check our plenty of car fleet and choose what's more favorable for you. Send Us your inquiry, our reservations team is always at your disposal to get back to you with a better quotation.