Undiscovered wildlife experiences in Uganda
Undiscovered wildlife experiences in Uganda, it is undeniable that first-time travelers to Uganda will wish to undertake game drives (in Murchison Falls, Queen Elizabeth, or even Lake Mburo National Parks), and/or go gorilla tracking in Bwindi or Mgahinga Gorilla National Park. However, there is more to the Pearl of Africa than these two unforgettable wildlife experiences. We bring you some of the undiscovered wildlife Experiences that you should consider the next time you make a plan to go on a safari in this remarkable and breathtaking country;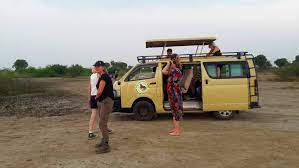 Experiential Tourism Adventures # Undiscovered wildlife experiences in Uganda

One of the undiscovered wildlife Experiences in Uganda is Experiential Tourism Adventures that include lion tracking, bird counts, Hippo Census, and Mongoose tracking. If you ever desire to enjoy any of these activities, then Queen Elizabeth National Park is the place for you. These activities are virtually undiscovered yet are worthwhile and more rewarding. Most visitors to Queen Elizabeth National Park will prefer the ordinary game drives yet chances of sighting big cats (especially lions) are by luck. However, with lion tracking, you will even go off-track and are guaranteed to see the "Kings of the Jungle". These lions are marked with locater trackers and when you participate in this activity, you can learn their behavior. Hippo Census provides a closer encounter with the Hippos in Kazinga Channel, compared to the ordinary boat rides.
Golden monkey tracking
Often left unnoticed by visitors to Mgahinga Gorilla National Park, Golden Monkey Tracking is one of the thrilling yet undiscovered wildlife experiences in Uganda, Scientifically known as "Cercopithecus kandti", golden monkeys are species of Old World monkeys that occupy the Highland Bamboo forests of Virunga Mountain slopes. In Uganda, they can be tracked in the country's smallest Protected Area, but most visitors ignore the adventure, preferring mountain gorilla tracking, yet their long golden hair mixed with Orange are a sight to behold. Tracking them isn't as exhausting as Gorilla trekking because they occupy the lower slopes of the Virunga Mountains, in addition to the fact that they don't build their new nests each day thus no need for trackers to go ahead of time to find them.
The Gorilla Habituation Experience#Undiscovered wildlife experiences in Uganda
Another undiscovered wildlife Experience in Uganda is the "Gorilla Habituation Experience". This activity is only done in Bwindi Impenetrable National Park and allows visitors to track and meet semi-habituated mountain gorillas to spend up to four hours with these Giant Apes. Providing more private/intimate encounters, this Experience is done by only four visitors who track the only available gorilla family (at the time of writing) in the Rushaga sector, in the southern part of the Park. During your rare adventure, you will get the chance to walk through the natural habitat of the mountain gorillas and have the exceptional privilege of taking as many photos as you can, something that many visitors can't get when undertaking the standard gorilla treks that allow spending only one hour with the mountain gorillas.
Sighting the extraordinary tree-climbing lions
The Tree-climbing lions in Southern Queen Elizabeth National Park (known as Ishasha sector) are often overlooked by visitors to this National Park in favor of the game drives in the Northern part of the Protected Area. Surprisingly, the tree-climbing lions are found in only two places in the Whole World- Ishasha and Lake Manyara National Park in Tanzania and therefore seeing them is always a once-in-a-lifetime Experience. Coupled with the seclusion of the sector and other remarkable wildlife species that roam through the area, sighting the extraordinary tree-climbing lions is a truly irresistible yet undiscovered wildlife experience in Uganda.
There is no scientific evidence as to why these big cats climb and spend the larger time of their days on trees but some believe it is a behavioral adaptation to protect themselves from the irritating insect bites that they are likely to face on the ground, while others say it is a way of escaping the scorching heat.