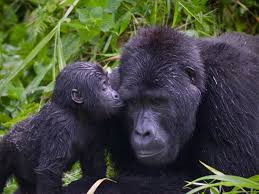 Reasons Why You Should Track Uganda gorillas
Uganda is among the three countries world-wide to host the endangered mountain gorillas the other two are Rwanda and Democratic republic of Congo. Mountain gorillas are among the four sub-species of gorillas which is known as endangered species, there are only about 880 mountain that are left world-wide and over 480 mountain gorillas live on in Uganda and the rest are shared by Rwanda and the DRC, not only that Uganda is known as the leading mountain gorilla destination in the world attracting a huge number of tourists into the country who come and spend some good quality with the endangered mountain gorillas in their national habitat.
Gorillas look aggressive and many who have never got a chance to meet them in their natural home still have doughty whether its possible to meet them face to face, they look aggressive, but they are known as one of the most peaceful creature on earth unless threatened, they are habituated to human standards and they can be met without any harm caused to human. Thanks should go to an American primatologist and a researcher (Diane Fossy) who spent over 18 years in wild carrying out research on these endangered gorillas in the Karisimbi mountains in volcanoes national park Rwanda, however she was killed by the said poachers who were against her works of fighting poaching, she was buried in the forest with her friend gorilla Digit and many other gorillas that died either by diseases or sneers set by poachers. Many safaris to meet the gorillas are arranged daily in all the three gorilla hosting parks, and only eight persons are allowed to meet the gorillas per gorilla family. Gorillas are Uganda are hosted in two parks including Bwindi impenetrable national park and Mgahinga gorilla forest national park, both parks are located in the south western part of Uganda. The below factors are among the reasons why one should choose tracking the gorillas of Uganda;
Uganda Permits are very cheap: that's Why You Should Track Uganda gorillas. one should choose tracking in Uganda because the Uganda gorilla permits are sold cheaply than in its counterparts Rwanda. Uganda gorilla permits are sold at usd700 per person compared to gorilla permits of Rwanda are sold at usd1500 per permit. So choosing tracking in Uganda will make you save almost usd800 this is a huge sums of money one can use to do many other activity or one can use to purchase for a ticket/Visa to Uganda. So if you are interested in saving Uganda is the best place to go gorilla tracking. Not only that but Uganda gorilla permits are very easy to purchase, although sold at first come first serve basis, you should rush and purchase your gorilla permit in time at least 2-3 months prior to your arrival dates to avoid disappointment of last minute booking.
Sighting gorillas of Uganda is a guarantee: Uganda offers a great chance to view the endangered mountain gorillas in the wild; one has over 98% and above chances of sighting the gorillas.  Given the fact that Uganda is the leading mountain gorilla destination with the highest number of gorillas one is guarantee a chances of sighting. Uganda has the most number of gorilla families 14 gorilla families exists in Bwindi national park and gorilla family in Mgahinga national park, so its upon a gorilla tracker to choose the gorilla family to track from depending on the gorilla permit availability. Many gorilla trekkers prefer tracking in Bwindi national park than in Mgahinga national park, given the fact that it hosts very many gorilla families than in Mgahinga.
It's strategically located: Uganda is strategically located and can easily be accessed, it has an international airport known as Entebbe International airPort and there are very many airlines that land direct on this airport such as KML, Ethiopian airways Emirates, South African Airways , and Etihad Airways among many others, so visitors to Uganda who are interested in this activity (gorilla tracking) can access Uganda very easily. From Entebbe one can either use road or air transport to reach the gorilla parks, by road it takes about 8-9 hours to reach Bwindi or Mgahinga national park and by air it takes about 2 hours however the timing vary depending on aircraft routing from Kajansi airstrip to Kihiki or kisoro airstrip. The Uganda gorilla parks are also strategically located, in that they can also be accessed from Rwanda passing the Kyanika/Gatuna Border and track in the gorillas in Bwindi national park (Rushaga/Ruhija sector or in Mgahinga national park. so this gives another reason why gorilla tracking in Uganda.
Uganda has four sectors for gorilla trekking: Bwindi has four sectors which inhabit the endangered mountain gorillas these include Buhoma sector, Ruhija sector, Rushaga sector and Nkuringo sector. Each gorilla sector houses over 3-4 gorilla families and each gorilla family hosts between 10-30 gorilla families. So, your gorilla permit will be booked in one of this sector depending on gorilla availability and accommodation choice. whereas Mghahinga national park as has one gorilla family known as Nyakagezi so if you will track in this sector, first ask your tour company/agency to check group availability since the leader of the group likes adventure, it sometimes cross
Offers a variety of accommodation: there are a variety of accommodation options both in Bwindi and Mgahinga national park ranging from budget to up-market accommodation. Each sector of Bwindi national park has a wide variety of accommodation and many camping sites for those who want to camp around the park, and feel more sound of the bush. This is when compared to rwanda and DRC parks, makes one to book tracking in Uganda, and more so the rates are not to high compared to its counterparts, at any fee starting from 30$ you can't fail to get where to sleep before and after the wonderful gorilla experience. Most of the lodges within the park and others are just a few kilometers from the park headquarters. However, due to very many people who get into these parks (Bwindi and Mgahinga) to enjoy this wonderful gorilla trekking experience, some accommodations get fully booked, so in this context, you are advised to book your accommodation in time to avoid disappointment.
Tracking in Bwindi or Mgahinga is more adventurous:  for those who need a more wonderful adventurous experience, Bwindi or mgahinga is the best place to go gorilla tracking. The long drive from the capital city Kampala (8-9) hours too rewarding in that, it gives one a chance to admire nature and have en-route stops to various points of interest including at the equator crossing, craft shops and market and if interested you can buy souvenirs, not only that but you can branch to Lake Mburo national park and enjoy a game drive in the park and later embark on the transfer to the bwindi or Mhahinga national park the following morning. Given the fact that Bwindi is an impenetrable forest, tracking is a big difficult compared to Volcanoes national park (Rwanda) and Virunga national park (DRC) so tracking the impenetrable forest is too adventurous as you will pass through the thick forest to meet the gorillas which makes the all activity adventurous and during the search, you will be capable to meet many forest dwellers such as birds, animal species such as elephant, buffaloes, antelope species and many plant species.
Opportunity for more alternative safari activities: tracking in Bwindi or Mgahinga Uganda national parks gives one chance to enjoy many other safari activity, such as chimpanzee tracking in Kibale national park, wildlife viewing in queen Elizabeth national park, and also sight the tree climbing lions in the Ishasha sector of the park an extension of Queen Elizabeth national park on your way to or from Bwindi national park. Not only that, but you can also do double gorilla tracking both in Bwindi and Mgahinga national park or relax at the Lake Bunyonyi. Not only that Uganda as a lot to offer, it houses over 10 national park and over 13 game reserves, it has lakes and River which offers good relaxing places, Uganda is also known as a cultural melting place with over 50 tribal groups so visiting Uganda's unique safari activities on a gorilla tour makes it a better place to go gorilla tracking since you have a wide.
Uganda gorilla Permits are very easy to purchase; in Uganda getting a gorilla permit is not too difficult like in its counterparts Rwanda and DRC. In Uganda even the un registered tour and tour companies as well as individuals can purpose a gorilla permit, whereas in Rwanda only registered tour companies are given a chance to purchase a gorilla permit, even sole travelers/ self-drive travelers who are interested in gorilla tracking can go to the Uganda wildlife Authority and buy their gorilla permits from there the easy process to everyone is allowed to own a gorilla permit
In conclusion, with no doubt Uganda is known as the leading gorilla safari destination in the world attracting a huge number of foreigners in the county. The government of Uganda have acquired a lot of revenue from tourist who come to track gorillas, the economy has improved and the local people especially those who live near the gorilla park has gained a lot from the activity as a small percentage goes direct to help the local community hence this has helped them to improve their standards of living. Gorilla tracking is known as the most done adventurous safari activity not only in Uganda but also in the gorilla tracking is regarded as incomplete. other two gorilla tracking nations such as Rwanda and DRC, and one scholar wrote and said a safari without. hence Reasons Why You Should Track Uganda gorillas